America's four deserts touch nearly every state in the West. The largest, highest and coldest is the Great Basin Desert in the north. In the South are the Sonoran Desert to the West and the Chihuahuan Desert to the East, both of which sprawl across the Mexican border. In between is the smallest of the four, the transitional Mojave Desert and its famous Joshua trees.
Check Out: 9 Safest Places To Retire Abroad for Less Than $2,000 a Month
Important: 5 Things You Must Do When Your Savings Reach $50,000
These regions are home to some of the world's most unique geological features and diverse biological habitats — and they're teeming with great places to retire. 
The deserts conceal some of the country's wealthiest communities and also some of its most affordable — and retirees flock to the sunshine, tight-knit communities and bounty of natural beauty and activities they provide.
But before you settle on Phoenix or Palm Springs, you should know about some less-prominent alternatives that are emerging as the primo desert retirement destinations of tomorrow. Give these up-and-comers a chance before you commit to a desert bandwagon city.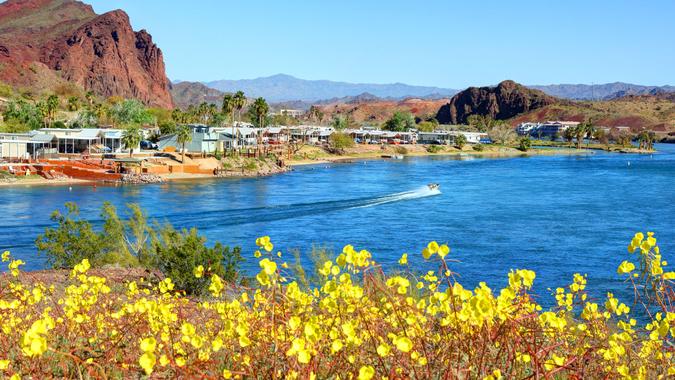 Lake Havasu City, Arizona
When you think of life in the desert, 400 miles of beautiful coastline might not come to mind, but that's exactly what you'll get when you retire in Lake Havasu City — its namesake body of water is one of the top bass-fishing lakes in America.
Tucked into the northern and western limits of the Sonoran Desert, it's home to a population of 56,000 that hosts 835,000 visitors annually. They come for the 300 days of sunshine, the region's incredible biodiversity, unique geological features and, of course, Lake Havasu's beaches, fishing and boating along 60 miles of navigable waterways.
The city maintains a page dedicated to relocating and retiring there, now that Time, Money Magazine and Portfolio.com noted its status as an emerging Arizona retirement hotspot.
The typical home there costs roughly $500,000 and the cost of living is 8% higher than the national average.
Take Our Poll: Do You Think You Will Be Able To Retire at Age 65?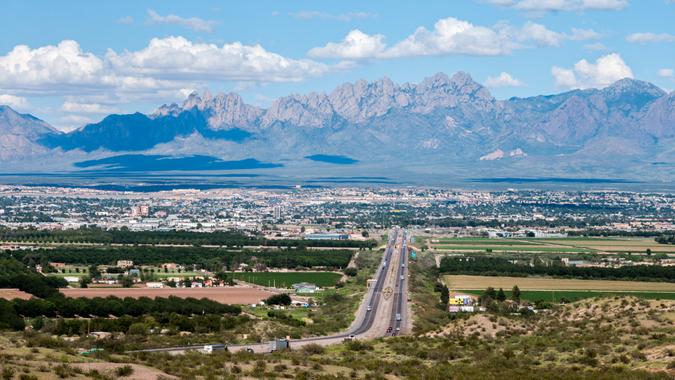 Las Cruces, New Mexico
If you live in New Mexico, you become eligible for a property tax exemption and favored income tax status the moment you turn 65 — and Las Cruces is emerging as one of the state's hottest places to retire.
One of the most geologically diverse locations in the Southwest, it's located on the edge of the Chihuahuan Desert on the Rio Grande at the foot of the Organ Mountains. The dry highland desert climate is similar to that of Palm Springs — residents enjoy 350 days of sunshine per year — and Las Cruces offers high-quality healthcare that ranks near the top in the state. It's rich in history and culture, boasts a low crime rate and has a thriving economy. The typical home in Las Cruces costs less than $270,000 and the cost of living is 16.5% lower than the national average.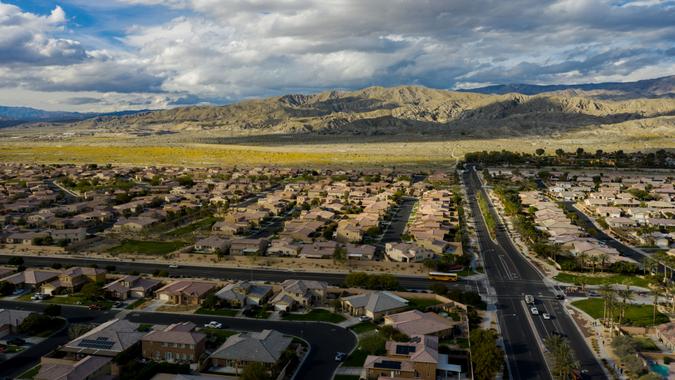 Indio, California
You know Indio as the home of the Coachella music festival. That's just one of many major music and arts festivals that Indio hosts throughout the year — but it's also a burgeoning desert retirement hub. Located in Coachella Valley in the Colorado Desert region of the Sonoran Desert, Indio is home to at least five major 55+ active adult retirement communities that combine for more than 6,500 homes.
Part of the greater Palm Springs region, the City of Festivals, as Indio is called, bumps up against Joshua Tree National Park and is adjacent to the Salton Sea.
The typical home costs $540,000 and the cost of living is 10.6% above average, which is much lower than California as a whole.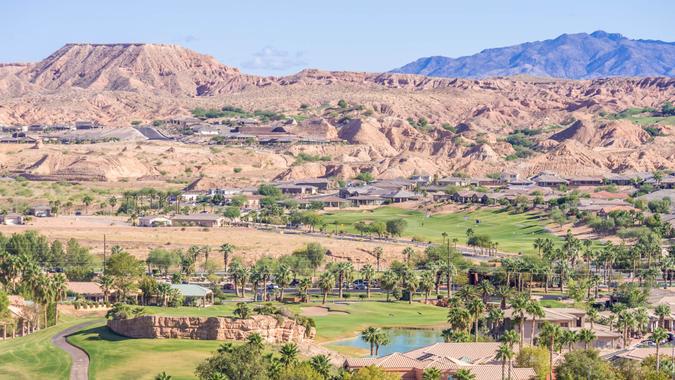 Mesquite, Nevada 
About an hour from Las Vegas, you'll find Mesquite, which is located in the northeastern Mojave near the end of America's "hot desert" range. 
This city of a little more than 20,000 people is home to booming resorts, 24-hour casinos, bars, restaurants and entertainment —  yet locals enjoy a small-town feel that you just can't get in Vegas. 
The real estate tech firm Mojoto calls it "a retirement paradise, especially for those who play golf." With seven courses within a 10-minute drive, you can't write that off as an exaggeration — and thanks to its flat-top red mesas and scenic vistas, the scenery is stunning on the fairway and beyond, even by the standards of the Northeastern Mojave.
The typical home there is worth a shade under $399,000 and the cost of living in Mesquite is 2% above the national average, which is still cheap by Nevada standards.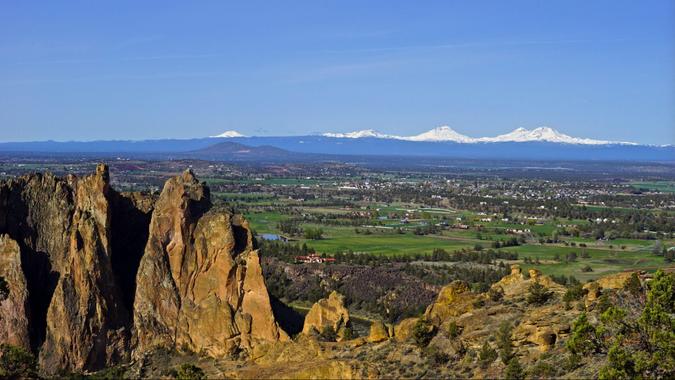 Redmond, Oregon
Forbes ranked Redmond as the No. 1 place to retire in Oregon way back in 2018, citing the city's low crime rate, excellent air quality and absence of a tax on sales or Social Security. Four years later and all those qualities remain unchanged — but the secret is still only starting to trickle out.
Located in the Oregon high desert east of the Cascade Range and south of the Blue Mountains, Redmond is a fast-growing city that won't be an up-and-coming hotspot for long. Transplants are moving there for its status as a four-season outdoor destination city that balances its rugged natural landscape with luxurious and modern boutique hotels, posh resorts, upscale dining and entertainment venues, breweries, wineries and cultural amenities.
The typical home costs a little under $518,000 and the cost of living is 12.8% higher than the national average.
More From GOBankingRates
All home values come from Zillow and all cost-of-living data comes from Sperling's Best Places.
This article originally appeared on GOBankingRates.com: 5 Up-and-Coming Desert Retirement Towns
The views and opinions expressed herein are the views and opinions of the author and do not necessarily reflect those of Nasdaq, Inc.
link