Across the industry, there is a lack of understanding of the meaning of "Women's Health." The term "Women's Health" is often constrained to fertility and maternal health. However, Women's Health encompasses not only conditions unique to women, but also general conditions, such as cardiovascular disease, anxiety, and depression, that impact women differently and/or disproportionately than their male counterparts. This lack of understanding has contributed to women's healthcare being grossly underserved, despite women making 80% of healthcare decisions. Driven by centuries of being overlooked, women today face longer times to diagnosis, specialist shortages, a higher healthcare financial burden, and ultimately worse health outcomes compared to their male counterparts.
Historically, poor provider training and practice has contributed to women being diagnosed later than men in an astounding 770+ disease types, with an average delay of four years. Male-centric provider training has focused on symptoms more typical for men. Heart attack symptoms, for example,  manifest differently in women than in men and are often misattributed to acid reflux or "normal aging." And, disease areas that are under-researched and under-diagnosed are often those that affect women disproportionately. For example, more than two thirds of individuals affected by autoimmune diseases and Alzheimer's disease (both of which are historically under-researched conditions) are women. The resulting delay in women's diagnoses has been cited as being more costly and harmful than any other patient safety threat, with diagnosis delays contributing to 10% of patient deaths.
Further, gender bias in clinical trials has led to a poor understanding of how disease may manifest or impact women differently. Before the 21st century, drug safety and efficacy were not robustly evaluated in women and today underrepresentation persists in clinical trials. While women make up 51% of the US, between 2016 and 2019 women only accounted for 41% of medical device and drug trial participants. Without robust clinical research, women ultimately face worse health outcomes, such as being two times more likely to experience drug adverse events compared to men.
The care experience for women is also entrenched in historical biases, laden with stigma, disregard, and frustration. Throughout the 18th and 19th centuries, women were diagnosed with 'female hysteria' in response to unexplained behaviors or symptoms​. Centuries later, negative provider interactions are still heightened for women; in fact, women are 38% more likely than men to say a provider dismissed their health concerns as well as 10 times more likely to have symptoms attributed to psychosomatic or psychological disorders compared to men.
For women from historically disadvantaged communities, including BIPOC, LGBTQ+, low income, and rural communities, entrenched healthcare disparities are amplified. Lack of access to a range of care, such as primary care and fertility treatment, has led to worse healthcare outcomes and higher mortality rates among these populations. Compared to heterosexual women, lesbian women experience higher rates of many chronic diseases (e.g., depression, hypertension, diabetes). Among women earning less than $25,000 per year, only a third of those facing fertility challenges seek treatment, compared to two thirds of women who face fertility challenges and earn more than $100,000 per year. For those living in rural communities, less than 50% live within a 30-minute drive to the nearest hospital offering perinatal services.
Tragically, US maternal mortality rates exemplify the state of health disparities within underserved communities. The nation's devastating maternal health crisis disproportionally impacts women of color with Black women being more than three times more likely to have a pregnancy-related death compared to White women. The elevated maternal mortality rate among Black women is caused by a combination of factors, such as lack of access, poor quality of care, and implicit provider bias, reflecting the impact of structural racism on Black mothers' healthcare in the US. And, while maternal mortality rates have decreased in most developed countries over the past two decades, US maternal mortality rates continue to climb. In fact, today, the US maternal mortality rate is greater than five times the rate in comparable developed countries.
Though women being underserved in healthcare is pervasive, women's specific health needs vary based on factors such as life stage and the acuity level of healthcare needs. To best outline women's health gaps, we at 7wireVentures categorize women into six distinct segments: The Growing Adolescent, Ready to Start a Family, New (or soon-to-be) Mother, Juggling Work, Home, & Family, Hormone Reformer, and Chronic Care Seeker.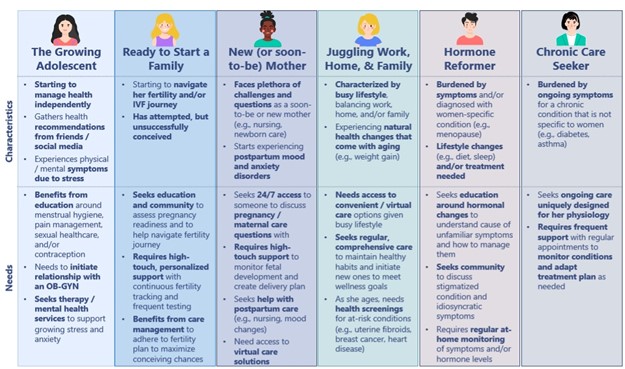 Proprietary to 7wireVentures
The unique characteristics of these consumer segments demonstrate women's diverse needs across life stages and the consequently varied approaches to care required to meet these health needs. With more intentional design and new technologies, the women's health journey can be reimagined to provide more personalized and holistic care.
Women's Health Landscape
Investments in women's digital health have accelerated over the past decade, with an increasing trend towards later-stage deals in recent years. 2021 was a particularly significant year, with funding doubling relative to 2020 and 63% of funding given to later-stage companies. Despite headwinds of slowing investments in digital health, funding in 2022 remained strong for women's healthcare, and early indications of 2023 suggest a strong year ahead. Two women's digital health companies even recently achieved unicorn status – Maven late last year with its $90M raise, and Kindbody just this month with its $100M raise.
In addition to investor interest in the women's health space, strategic stakeholders have been active in forming partnerships to improve women's health outcomes and lower women's healthcare spend. Payers are one such stakeholder leading the charge in women's health partnerships. For example, BCBS of Michigan recently partnered with healthcare unicorn Maven, giving all fully insured and individual PPO and HMO members access to Maven, which just this month expanded offerings to include menopause support. Payers are also partnering with digital health solutions targeting specific women's health consumer segments. In June 2022, Anthem partnered with Happify Health to give pregnant members access to Happify Health's online community, where they can connect with mental health experts, OB-GYNs, and other healthcare providers, ask questions, and develop connections with others going through similar health issues. In a similar vein, Cigna partnered with Wildflower Health to provide virtual care and remote monitoring for maternity care with Wildflower's mobile app-based service being offered specifically to Cigna members with high risk pregnancies.
Digital health investments have funded a range of technological solutions that tackle the gaps that the traditional health system has failed to close, empowering women to make informed decisions about their healthcare journeys. We believe the digital women's health landscape can be broken out into six different categories: Sexual Health & Wellness, Primary & Holistic Care, Maternal Care, Fertility Care, Condition-Specific Care, and Menopausal Care.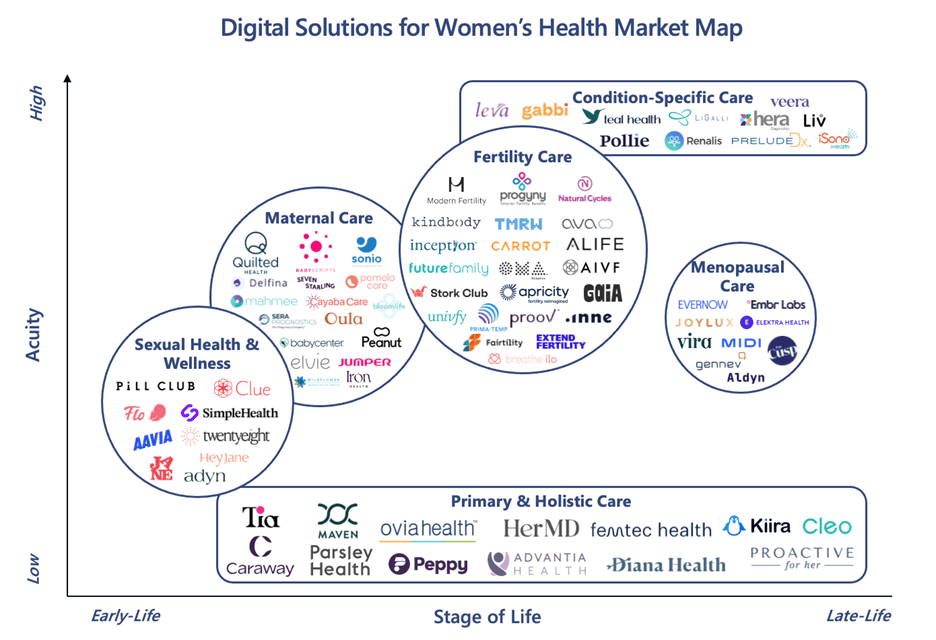 [1] Pitchbook
Sexual Health & Wellness
There has been a global trend towards destigmatizing sexual health, paving the way for digital health platforms designed to empower women with information and access to reproductive and sexual health care. Given the burden and access barriers for oral contraceptives, women's health solutions such as Pill Club help women tackle access barriers better and self-manage birth control adherence by providing a straightforward online delivery service for contraceptives. Additionally, with only about one fourth of women discussing sexually transmitted infections (STIs) with their providers, digital health solutions can facilitate engagement to increase STI screening, which when caught early, minimizes downstream health complications and costs. Twentyeight Health is one such platform that offers online provider evaluations, convenient home delivery of contraceptives and STI treatment, and ongoing secure messaging with providers​.
Primary & Holistic Care
Today, the digital women's health market is characterized by a fragmented array of solutions focused on single conditions or life stages. Consequently, women lack a single medical home for their needs, creating an inefficient and ineffective point-solution-driven model.  There is a clear need for whole-person primary care that monitors and provides women a full picture care of their health by incorporating a mix of preventative care and treatment, offering telehealth options to maximize consumer flexibility, and demonstrating return on investment for potential partners (e.g., payers, employers) to capture funding.
Along with women's health unicorn, Maven, notable companies such as Parsley Health are providing comprehensive primary care services to women. Parsley Health offers a holistic "Root Cause Resolution Medicine" approach to women's health as Parsley's providers analyze clinical history, lifestyle patterns, and robust diagnostic testing results to comprehensively diagnose and tailor treatment plans. Through the company's holistic care model, Parsley Health has demonstrated meaningfully improved outcomes for its members, with 80% of Parsley consumers seeing an improvement in symptoms in their first year as a member.
Within the women's primary care category there are also digital health solutions targeting specific populations. For example, Caraway offers a comprehensive healthcare platform purpose-built for the Gen-Z consumer and tailored to address college-aged students' unique mental, reproductive, and physical healthcare needs. Caraway's integrated care model is intentionally designed to serve the holistic health needs of this age demographic and serve as a trusted resource in a frightening and confusing time for both higher education leaders and young adult women.
Maternal Care
Given the backdrop of US maternal mortality rates lagging behind other developed countries, there has been a recent increase in digital solutions that target maternal care. These solutions cover the spectrum of maternal health, from early pregnancy through postpartum, with particular focus on improving the rates of maternal death through risk assessment and early intervention. For example, Babyscripts' pregnancy care platform provides prenatal and postpartum care, enabling doctors to detect pregnancy-related risks swiftly and automate elements of care.​
In the wake of the national OB-GYN shortage, there are also promising digital health solutions to improve much needed consumer access to maternity care providers. Quilted Health is one technology-enabled solution that aims to increase access to maternity care services by offering midwife-guided virtual and in-person maternity care. By offering comprehensive pregnancy care led by midwives, Quilted Health expands accessibility to maternity care providers and enables expecting mothers to get proper prenatal care.
Fertility Care
The fertility space has seen significant investment as companies seek to move fertility care to the home through home fertility test kits, digital-based tracking, and virtual-first care. However, despite fertility representing one of the largest investment areas in women's digital health in the past few years, success rates remain low, highlighting the need for more personalized solutions. Moreover, infertility rates are expected to increase with a trend towards pregnancies later in life, and more employers seeing fertility services as a benefit to attract employees, resulting in an attractive space for continued investment. Given this backdrop, fertility companies seek to both make the fertility process easy for customers and improve the success rates of IVF by leveraging data-driven insights for every step of the process.
Kindbody, which recently raised $100M, is an example of reimagined fertility care as the company focuses on delivering compassionate care to patients through its end-to-end fertility program, which includes services such as, initial consultation, IVF procedures, and preconception care. Fertility companies like Kindbody are helping to address the historically fragmented, inequitable, expensive, and inaccessible space by providing a tech-enabled integrated experience at lower cost.
Alife Health, on the other hand, exemplifies the rise of data-driven fertility solutions as its AI platform assists clinicians, embryologists, and clinic managers with data-backed insights to optimize each step of the IVF process. On the consumer side, Alife also offers a mobile application that helps consumers track results, organize appointments, and set medication reminders.​
Condition-Specific Care
Within women's health, there are also digital solutions that focus on specific conditions related to cancer, hormonal health, and more in the context of women's physiology.​ DrLullaby focuses on treating insomnia, which women are twice as likely to suffer from compared to men. Dr. Lullaby targets a solution for women by offering virtual access to Cognitive Behavioral Treatment for Insomnia (CBT-I), utilizing a combination of telehealth visits and digital health support, to improve access to board-eligible insomnia specialists. The DrLullaby platform has allowed women to reduce time to fall asleep, increase sleep efficiency, and taper off sleeping pills.
PreludeDx is another women's health company in the condition-specific care space that specifically focuses on breast cancer. PreludeDx develops molecular diagnostics and precision medicine tools intended to aid in the detection and treatment plan for early-stage breast cancer​, a condition that more than 250,000 women are diagnosed with in the US each year. PreludeDx's tools enable providers to personalize breast cancer treatment based on a consumer's individual biology, such as predicting the extent to which an individual may benefit from radiation therapy.
Though technologies have been developed for some conditions that disproportionally affect women, the market is still ripe for solutions to draw awareness to and diagnose historically under-studied women's conditions (e.g., PCOS, endometriosis).
Menopausal Care
Though there has been an increase in funding in the menopause care space, especially for hardware technologies used to track symptoms, there are still significant care gaps for women experiencing menopausal symptoms. Today, stigma around menopause persists. Digital menopause solutions such as Elektra Health help curb this stigma by fostering perimenopause and menopause community support and by offering personalized menopause wellness plans, increasing access to telemedicine, and offering virtual events with menopause experts.
Additionally, with only 20% of OB-GYN residency programs providing menopause training, women experiencing menopause often do not have access to the appropriate set of clinicians that can support them in effectively managing their symptoms. Digital health technologies can help address this care gap by expanding access to clinicians with expertise in menopausal care​. Midi is one such platform that acts as a virtual women's midlife healthcare clinic to provide personalized planning, testing, and evidence-based treatment for menopause and other conditions that affect women ages 40+​.
Lastly, given the idiosyncratic nature of menopausal symptoms,  there has been an increase in wearables in the menopause space. Companies such as Embr Labs develop wearables for thermal comfort interventions with Embr's flagship product, Embr Wave, being a wrist-based wearable that regulates the body for thermal relief from menopausal hot flashes​.
7wireVentures Predictions
PREDICTION 1: The path towards parenthood will be meaningfully reimagined through digital health applications that increase access and affordability of testing and treatment services, improve care delivery through whole-person clinical models, and enhance the consumer experience through convenient, personalized modalities.​
As demand for fertility treatments continues to increase, digital solutions will offer increased access and affordability by bringing parts of the fertility journey to the home and serving as companions to treatment planning and adherence.​ With the introduction of whole-person clinical models in women's healthcare and the growing body of evidence that demonstrates a linkage between stress and treatment outcomes, fertility solutions will become more holistic and end-to-end, encompassing elements such as mental health services.​ As of 2020, coverage for IVF and egg cryopreservation among employers with 20,000 or more employees was 42% and 19%, up notably from 36% and 6% in 2015. Employers will continue to partner with low-cost digital fertility solutions as both regulatory changes and employee expectations will place expanded pressure on organizations to provide fertility benefits.​
PREDICTION 2: AI and machine learning will continue to emerge as a dominant force in women's healthcare, helping health organizations absorb large data sets to deliver enhanced diagnostics, personalized care journeys, and true precision medicine applications.​
Historically, women have been routinely left out of medical research, resulting in male bias in healthcare data. AI and machine learning will increasingly enable healthcare solutions specifically adapted to a woman's physiology as vast amounts of collected data including menstrual symptoms and hormonal levels will inform recommendations. In particular, innovative consumer technology players such as Apple are advancing our understanding of menstrual cycles and how they relate to various health conditions by leveraging the iPhone and Apple Watch. Once validated, AI and machine learning will be adopted rapidly in women's healthcare with subpar outcomes such as fertility treatment, where despite decades of improvement, IVF success rates remain below 50%. Fertility startups are not only providing data-driven treatment recommendations, but also streamlining testing and diagnostics processes. Ultimately, AI and ML applications in women's health can enhance the care experience by minimizing trial and error, increasing convivence, and improving affordability. ​The rise of AI and machine learning in women's healthcare will also be paired with strong data protection following the overturn of Roe vs. Wade, as consumers seek products and companies that will ensure their data's safety.​
PREDICTION 3: Fueled by the recent Dobb's decision, worsening maternal health outcomes, and a growing healthcare affordability crisis that disproportionally impacts women, attention and investment in digital health companies focused on closing health gaps and increasing access to high quality care for women will rise precipitously.
As digital health companies continue to build capabilities and expertise in reaching and engaging underserved healthcare consumers, there will be increased investment in women's health solutions that address the chief needs for Medicaid populations and those in rural communities. Solutions that address the affordability and accessibility (e.g., lower-cost virtual specialist clinics, portable ultrasound devices) of healthcare will attract the greatest investment. ​ Interest in contraception, pregnancy, and maternal health more broadly following the Dobb's decision, which disproportionally impacts low-income women and women of color, will increase focus on the need for accessible, convenient, and culturally competent care models that work to eliminate care deserts, foster increased patient participation and engagement, and make way for more predictive and proactive care. ​While historical investment in women's healthcare have focused on fertility and reproductive services, the increase in investor attention will have a halo effect on the sector, driving investor funding to areas such as menopause and chronic disease care and giving much needed attention to a broad spectrum of women's health needs.​
Despite meaningful progress in the women's health space, there remains significant opportunity for technology to address the challenges that female consumers face throughout their healthcare journeys​. Digital solutions present great promise to improve women's healthcare and accelerate the development of Informed Connected Healthcare Consumers who are better equipped to make decisions about their care options. Through thoughtful consumer-centric design and application, these innovative solutions have the potential to reinvent women's health. ​
link