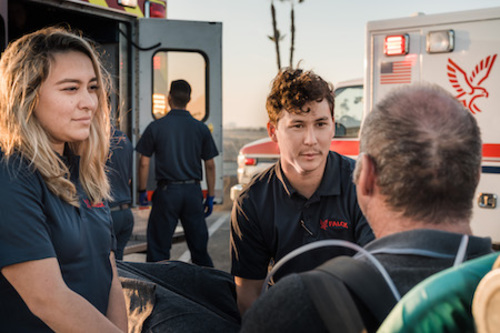 Denmark, May 26th 2023 – Falck, Scandinavia's leading healthcare provider and an esteemed international partner to healthcare systems, participates in the Global Health campaign led by TBD Media Group in alignment with the World Health Day. The film showcases their commitment to advancing sustainable healthcare solutions to meet the increasing demand for healthcare.
In our fast-paced and ever-evolving world, healthcare systems worldwide are facing an array of challenges and mounting pressures. The world's growing population, along with rising average age and an increasing number of people living with chronic diseases, has created an urgent demand for healthcare and treatment like never before and the demand for healthcare services exceeds the available and equitable healthcare workers.
Falck is driving remarkable innovations that not only transform the health sector but also reduce pressure on healthcare systems by preventing hospital admissions though new preventive healthcare solutions which deliver more healthcare with fewer resources.
"As a global healthcare company, we work as a close partner to different healthcare systems around the world. Even though the systems are different, they all face the same challenges with an increasing demand for healthcare and not enough healthcare workers to meet the demand. It's crucial that we change the way we look at healthcare and become better at preempting hospital admissions and advance healthcare technologies which provide the necessary help, but with fewer resources," says CEO at Falck, Jakob Riis.
For instance, in Colombia, Falck managed to transition 40% of the 1.5 million annual physical consultations to online medical care. This approach not only brings healthcare to isolated areas, it also reduces carbon footprint and maximises the utilisation of healthcare workers.
Falck keeps exploring the huge potential in advancing solutions that prevent health situations from becoming acute, such as monitoring solutions for the elderly or multi-chronic patients to spot fluctuations of vital parameters. This will ensure that the necessary care is provided before a situation evolves and becomes acute – saving the patient an unnecessary ambulance trip and releasing pressure on both pre-hospital services and hospitals.
Health drones

Another example of advancing healthcare in remote areas is using health drones for transporting blood samples or critical medication between settlements and hospitals for a faster diagnosis and treatment that potentially prevents long-term or serious illness.
The technology is already there, just waiting to be utilised
To find out more about Falck, click here https://www.falck.com/

To watch Falck's film as a part of the Global Health campaign, click here
About Falck:

Falck is a global emergency response and healthcare services company headquartered in Denmark. With a rich history dating back to 1906, Falck has evolved into a leading provider of emergency medical services and healthcare solutions in Europe, US and Latin America.
About TBD Media Group

TBD Media Group is an international, purpose-driven media developer that helps businesses, organisations and governments tell their brand stories in a human and direct way. Learn more at https://www.tbdmediagroup.com/
Media Contact:

Supprija Sanmuganathan

Marketing Coordinator

TBD Media Group

[email protected]
link