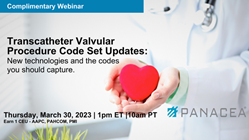 "We're pleased to offer this educational session, which will help both physicians and those involved in the mid-revenue cycle process. The material being covered will undoubtedly prove invaluable to the success and growth of any transcatheter structural heart program."

ST. PAUL, Minn. (PRWEB)
March 22, 2023
Panacea Healthcare Solutions, a leading provider of strategic pricing, price transparency, chargemaster, compliance, and revenue integrity software, education, and consulting services to healthcare providers across the full continuum of care, is hosting a newly developed webinar intended to help healthcare professionals keep up with recent advances in novel treatment options in the subspecialty of interventional cardiology.
"Transcatheter Valvular Procedure Code Updates: New Technologies and the Codes You Should Capture" is scheduled to take place at 1 p.m. EST on Thursday, March 30, with a Continuing Education Unit (CEU) credit available through the American Academy of Professional Coders (AAPC), the Professional Association of Health Care Office Management (PAHCOM), and the Project Management Institute (PMI). Register here.
The Current Procedural Terminology (CPT) transcatheter valvular procedure code set has significantly expanded since the transcatheter aortic valve replacement (TAVR) codes were created in 2013, with new procedures for all four cardiac valves added in several areas of the code book. Additionally, many patients are enrolled in clinical trials as this area of medicine rapidly expands, creating the need for a nuanced understanding of coding, billing, and claim requirements beyond just the assignment of the correct CPT code.
"We're pleased to offer this educational session, which will help both physicians and those involved in the mid-revenue cycle process have a clearer understanding of the procedures that can be performed across all cardiac valves," said Becky Jacobsen, Director of Coding and Documentation Services at Panacea. "The material being covered will undoubtedly prove invaluable to the success and growth of any transcatheter structural heart program."
Panacea Senior Healthcare Consultant Jayna Tuominen will be the lead presenter for the 60-minute webinar, during which she will review the current state of the code set for transcatheter valvular heart interventions across all four cardiac valves and discuss how to successfully navigate clinical trial coding, billing, and claim submission for these procedures. This presentation will equip physicians, charge entry personnel, coding professionals, practice administrators, and revenue cycle staff with the information needed to perform accurate and compliant coding and claim submission.
A live Q&A will be held after the primary presentation, providing participants an opportunity to ask questions and have them answered in real time.
"I'm very excited to offer this session, as it's a topic that's both timely and relevant," Tuominen said. "I have no doubts that participants will walk away from it far better prepared to successfully manage the coding and billing of these dynamic and evolving procedures."
By the conclusion of the webinar, participants should find themselves able to:


Identify all necessary codes currently available to capture transcatheter valvular procedures across all four cardiac valves;

Review critical documentation points to include in operative notes for accurate reimbursement;

Understand what current medical device products correspond with each available code; and

Review clinical trial coding, billing, and claim requirements as they apply to the transcatheter valvular procedure code set.
To learn more about Panacea's tech-enabled services, or other educational sessions, visit panaceainc.com or call 888-926-5933. Register for the webinar here.
About Panacea Healthcare Solutions
Panacea (http://www.panaceainc.com) provides software and tech-enabled services that help healthcare organizations improve their revenue cycle, coding, and compliance with front-line expertise in mid-revenue cycle management. In an era where 95% of provider revenue is driven by accurate coding and defensible yet optimal pricing, clients trust Panacea to deliver unparalleled value in strategic pricing, price transparency, chargemaster, compliance, and revenue cycle solutions.
Share article on social media or email:
link