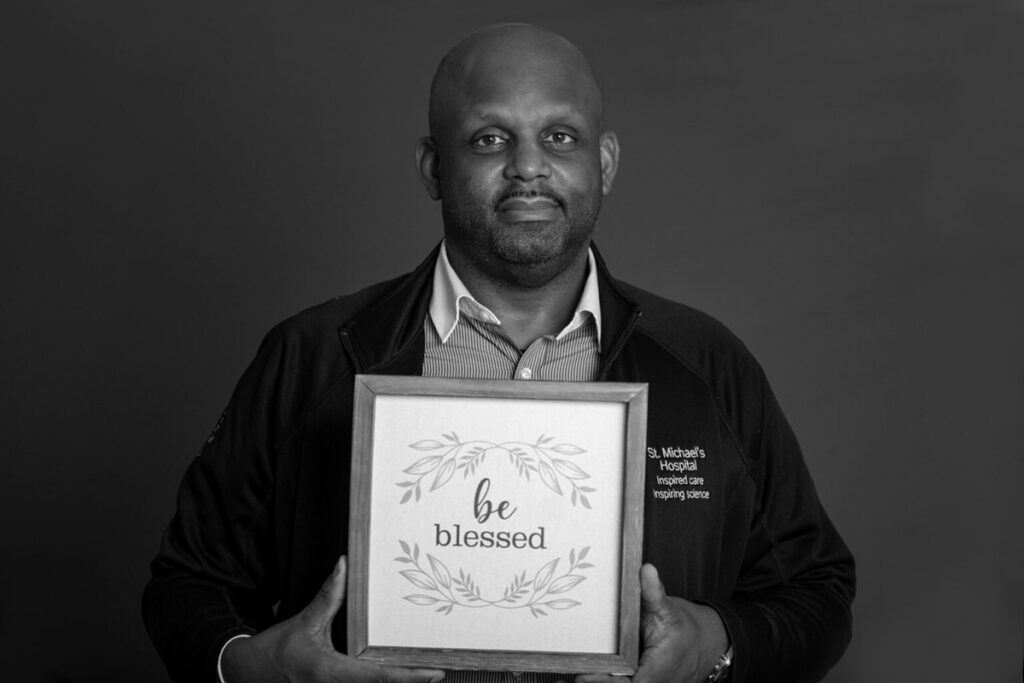 Each week, we share a list of 10 great things that happened at our sites. Got a great story to share? Contact [email protected].
1. 'Everyone gets an opportunity': Samuel Coleman on career, growth and supporting others
In our ongoing Behind the Mask series, Samuel Coleman, operational leader for patient registration at St. Michael's, reflected on his career journey, his passion for supporting others and how he deals with people's misconceptions and biases. "I've been fortunate not to be subjected to microaggressions too often in this role but when I first started, there was some pushback," he said. "Colleagues implied that I shouldn't have gotten the position, that I wasn't qualified… these comments aren't new to me… you learn to adjust yourself accordingly. I'm always prepared and I make sure that I'm totally professional."
2. Celebrating recreational therapists across Unity Health Toronto
February is Recreation Therapy Month and we're recognizing all of the work our recreation therapists do to support patients as they improve their health and quality of life. Sonia Bajwa and Courtney Mabee shared some of the things they love most about their jobs. "I am grateful to be able to remind people of their strengths, watch them accomplish activities they once loved to do and thought they could not achieve anymore, or teaching them new activities or adaptations of certain activities," said Bajwa.
"I love being part of an interdisciplinary team and working collaboratively to support our patients. As a recreational therapist, it is amazing to be able to collaborate with the team to address transferrable goals and to meet the needs of our patients throughout their recovery," said Mabee.
3. Research shines light on how primary care providers can best implement social interventions
Dr. Gary Bloch published a paper exploring what primary care providers see as barriers and keys to success in developing and implementing social interventions in their work. Sixteen primary care providers participated in semi-structured interviews about their practice. The study found that creativity, persistence and a deep understanding of the community underlie the implementation of successful social intervention programs.
4. Global News spotlights research on parents' decisions to vaccinate children against COVID-19
Dr. Janet Parsons spoke to Global News about a new research paper exploring parents' decisions on whether to vaccinate their children against COVID-19. The paper, co-authored by Parsons, Dr. Jonathon Maguire and Dr. Jannah Wigle, was published in the Canadian Medical Association Journal. It found that vaccine decision-making is complex and has many factors. "It wasn't a decision (parents) undertook lightly," Parsons said. "They thought very, very carefully about the decision for vaccinating their children."
5. St. Michael's-led research calls for more gender equity in academia
A scoping review led by Dr. Andrea Tricco found that only three of more than 500 studies published in North America and Europe over the past 50 years mention the intersection of gender and other variables. Most studies interchanged sex and gender and classified gender as a binary variable, despite the fact that gender is not binary. The study authors call for strategies to promote gender equity in academia that account for lived experience.
6. Dr. Neda Rashidi-Ranjbar gives talk for Alzheimer Society of Toronto
Dr. Neda Rashidi-Ranjbar, post-doctoral fellow at St. Michael's, gave a talk for the Alzheimer Society of Toronto about light therapy as a treatment for mild cognitive Impairment. Rashidi-Ranjbar reviewed a study that investigates the use of photobiomodulation as a treatment during the early stage of Alzheimer's disease.
7. How can primary care in Canada be improved? Dr. Tara Kiran weighs in on Toronto Star podcast
Dr. Tara Kiran was among a group of experts featured in an episode of the "It's Political" podcast. Kiran spoke about the importance of primary care in the health system and talked about what changes she'd like to see to improve the system.
8. Dr. Darrell Tan speaks to CBC News about risks for patients with HIV and mpox
Dr. Darrell Tan spoke to CBC News about a new study that found patients with advanced HIV and mpox had a 15 per cent mortality rate. Tan and his team contributed data to the study. "It's an important reminder of how we must not get too complacent even in the face of low case counts, because if the virus encounters a person susceptible to such severe manifestations like people living with advanced HIV, then it can be really devastating," he said.
9. Dr. Amol Verma speaks to The Toronto Star about how the pandemic impacted child and youth hospitalizations
Dr. Amol Verma spoke to The Toronto Star about new data that found an increase in mental health hospitalizations among children and youth during the second year of the pandemic. "The mental health-related hospitalizations in older children highlight some of the tradeoffs that were made in managing the pandemic," he said.
10. Mark your calendars: Register for the MAP Symposium on March 23
Don't forget to register for the Solutions for Healthy Cities Symposium on March 23, hosted by MAP Centre for Urban Health Solutions. The symposium will feature guest speakers and MAP case studies, as well as a keynote discussion with Dr. Ibram X. Kendi and Dr. Stephen Hwang. See you there!
Previous Ten Great Things articles
link