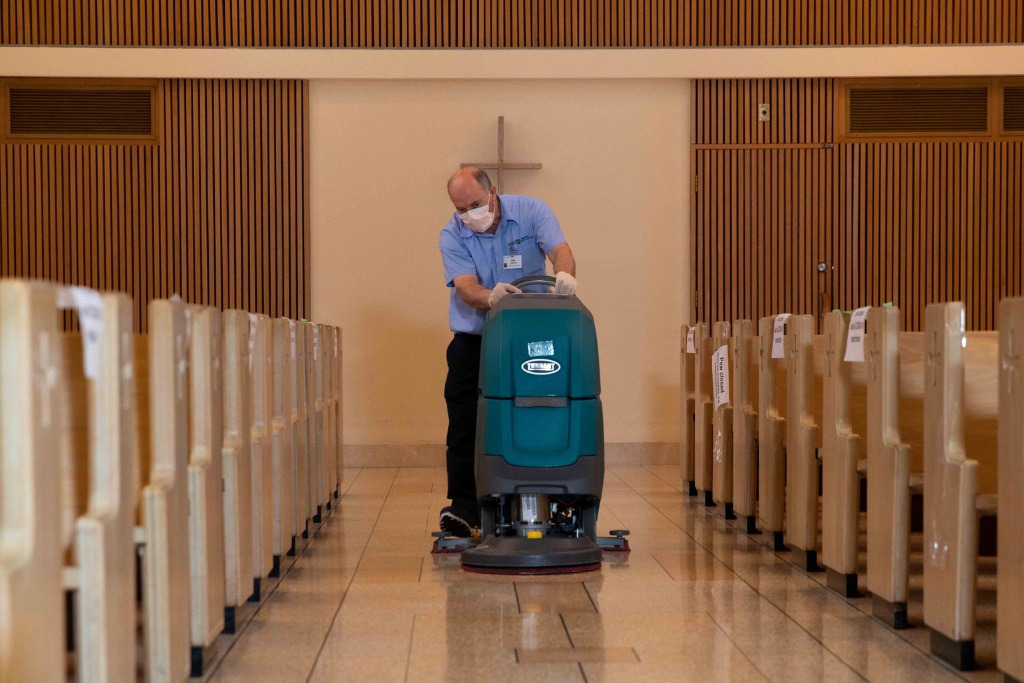 Each week, we share a list of 10 great things that happened at our sites. Do you have a story you'd like to share? Send it to [email protected].
1. 'Truthful doesn't mean ruthless': Dr. Peter Jüni reflects on life at the helm of the COVID-19 Advisory Table
Dr. Peter Jüni reflected on his time heading the Ontario COVID-19 Science Advisory Table in a Behind the Mask feature. Dr. Jüni, who will take on a new role at Oxford University this summer, was one of the most recognized scientists in the province throughout the pandemic, frequently relaying difficult information to the masses in media interviews. He said he always sought to be honest, but gentle, with the public. "Truthful doesn't meant ruthless," he said. "Truthful means truthful. And you can do that in a very soft way." 
2. Brightening spaces and spirits: Meet Unity Health's Environmental Services Cleaning Team
We profiled Unity Health's Environmental Services Cleaning team – a team of 500 staff across St. Joseph's, St. Michael's and Providence Healthcare. The team works 24/7 to perform a 360-degree cleanse of clinic spaces, patient rooms, public washrooms, lobbies and cafeterias. Their work is rarely seen in action, but it benefits patients, residents, families and staff. Joe Anselmo, Lead Hand at Providence, reflected on the challenges he's seen over the 40 years he's worked at the hospital, including SARS and COVID. "I started here when I was 20 years old and I just turned 60. So that tells you how long I stayed," he said.
3. St. Michael's scientists receive more than $3M in funding to address COVID-19 health impacts
Seven research projects at St. Michael's hospital received more than $3.2 million dollars in federal funding to address questions related to the health impacts of COVID-19. The funded projects examine a range of important issues, including gaps in services for justice-involved persons, evaluating "best practices" that promote healthy behaviours and mental wellbeing to counter the impact of COVID-19 on elementary school kids, and the impact of health equity initiatives during the pandemic recovery period. Congratulations to all of the scientists who were awarded funding!
4. Medical residents awarded at Higgins Day research event
Unity Health medical residents presented their research at Higgins Day, an annual event where residents present their research and receive awards in various categories. This year, Victoria Reedman won the William P. Jones III Memorial Scholarship Award and the Quality Improvement/Education category, Michael Elfassy won the Patrick Higgins Memorial Scholarship Award of Merit and the Research category, and Fartoon Siad won in the Clinical Vignettes category. Congratulations to all the medical residents who presented!
5. 'Patients trust me with their stories': Speech-language pathologist shares insights on her profession
For Speech and Hearing Month, we recognized Sonya Torreiter, a speech-language pathologist (SLP) at Providence's Post-COVID Condition Outpatient Clinic and St. Michael's Head Injury Clinic. Sonya reflected on the 20 years she's worked as an SLP and what she enjoys most about the job. "Patients trust me with their stories during the time we work together," she said. "I recognize how difficult this can be and consider it a privilege and a gift."
6. Dr. Larissa Matukas featured in AMR Action podcast
Dr. Larissa Matukas, head of the Division of Microbiology at St. Michael's Hospital, was featured in The Canadian Antimicrobial Innovation Coalition (CAIC)'s AMR Action Podcast. The podcast series aims to showcase the diverse perspectives of individuals committed to the issue of antimicrobial resistance. In the 27-minute episode, Dr. Matukas spoke about surveillance and the use of diagnostic technology to help combat antimicrobial resistance.
7. Dr. Muhammad Mamdani accepts award at AI Medical Global Summit
Dr. Muhammad Mamdani, vice-president of data science and advanced analytics and Director of the University of Toronto Temerty faculty of Medicine Centre for Artificial Intelligence Education and Research in Medicine (T-CAIREM), accepted the award for Institution of the Year at the Artificial Intelligence in Medicine Awards in San Francisco. Dr. Mamdani accepted the award on behalf of T-CAIREM. Congratulations to all!
8. Dr. Stephen Hwang talks about the risk of becoming 'anesthetized' to homelessness
Dr. Stephen Hwang, director of MAP Centre for Urban Health Solutions, spoke to The Toronto Star about the problem of homeless encampments moving to less visible places in the city. Dr. Hwang noted that as encampments disappear from highly-visible locations, there's a risk of the public becoming desensitized to homelessness. "Once the situation is allowed to grow, through inaction or inadequate action, people tend to lose their compassion," he said.
9. A 'new era of epidemics': Dr. Kamran Khan speaks about global Monkeypox cases
Dr. Kamran Khan, infectious disease physician at St. Michael's, spoke to the Toronto Sun about the uptick in the number of global Monkeypox cases, and the new "era of epidemics" we've entered. "We're now seeing an infectious disease event roughly every two years," Khan said. "This is the new normal, a new era of epidemics that we are going to have to manage."
10. St. Michael's-led study is most viewed in the New England Journal of Medicine
A St. Michael's-led study about the extent of Omicron infections in Canada was the most-viewed article in the New England Journal of Medicine this week. The study, co-led by Dr. Prabhat Jha, director of the Centre for Global Health Research, found that nearly 30 per cent of Canadian adults were infected with Omicron in early 2022.
Previous Ten Great Things articles

link