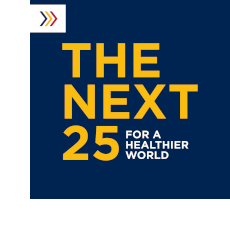 This story is part of The Next 25, an ongoing series exploring how Queen's Health Sciences is reimagining health sciences education, research, and patient care. 
Across Canada, the healthcare crisis is well-known and top of mind – for those working within the beleaguered systems and for every Canadian needing care. The challenges, exacerbated by the COVID-19 pandemic, are many: chronic staff shortages, and strained emergency departments; healthcare professionals who feel stressed and undervalued; not enough family doctors; recruitment and retention issues; as well as an urgent need to address under-served communities and provide culturally safe care.  
These issues are at the forefront of Queen's Health Sciences' (QHS) plans to revolutionize the health sciences by transforming health education, research, and patient care.  
"There is a lot of hope in the realization that we actually have the solutions in our hands," said Dr. Jane Philpott, Dean, Queen's Health Sciences, at a recent town hall event on the future of healthcare. "We've been doing this for a very long time. We've been doing it together now for 25 years (as a united Faculty of Medicine, Nursing, and Rehabilitation Therapy), and we think we can do it even better in the future and build better healthcare systems."  
QHS leaders cite a number of programs and partnerships as examples of how to address many of the sector's problems–particularly related to the shortage of family physicians and the need for culturally appropriate, in-community care. 
"We've been allocated 20 new seats in our undergraduate medical program, and we are going to focus these new seats at our partner site, Lakeridge Health, where we will intentionally recruit students who want to become family doctors," said Dr. Philpott. "This program will put students through a seamless program of both their MD program and their family medicine residency, embedded in communities right from the start, and will prepare them for comprehensive practice as family physicians." 
This program exemplifies a re-commitment to the fundamental purpose of medical education, of producing physicians who are going to serve the needs of society, said Dr. Tony Sanfilippo, Senior Advisor, Educational Expansion and Innovation at QHS. "This re-commitment means having an understanding of what society actually needs in terms of a physician workforce and making that real in our admissions and training processes." 
In Kingston specifically, where approximately more than 20,000 residents do not have access to a primary care provider, Queen's is working with multiple partners to open a Health Home that will provide access to care for at least 10,000 people with the opportunity to scale up in the coming years. 
A partnership with the Frontenac, Lennox & Addington Ontario Health Team, local hospitals and SEAMO (the Southeastern Ontario Academic Medical Organization), this health home will ease pressure on emergency departments and foster a positive work environment with interdisciplinary teams working together to provide fully integrated and coordinated care. 
Queen's will also strengthen its commitment to providing culturally appropriate, community care and education by expanding its long-standing partnership with the Weeneebayko Area Health Authority (WAHA) along the western James Bay coast. 
"This partnership goes back more than half a century, with doctors and nurses from Queen's delivering care at the Moose Factory General Hospital, and patients from the James Bay region coming to Kingston for care," Dr. Philpott explained. "We are moving that to the next level, establishing an educational partnership with WAHA which will help ensure students from that area are equipped with the high school prerequisites needed to pursue a career in health sciences, whether as a nurse, doctor, physiotherapist, occupational therapist, or public health professional." 
As part of the program, students will be mentored and supported through their high school preparation and application processes, with the ultimate goal of later working in their own communities. 
"This could change the face of the education we deliver to everyone," said Dr. Philpott. "Because, as we listen to Indigenous Elders and grandmothers and young people from those communities, we will learn how to ensure that our curriculum is culturally safe. We will be able to work collaboratively to create programming that is designed by and for Indigenous peoples." 
Interdisciplinary education is also a focal point of QHS's strategic plan, Radical Collaboration, which brings practitioners together to learn and support one another, and provide the best in patient-centric, community-based care.  
"We need medicine, nursing, and rehabilitation working alongside each other within our programs because it takes a team on the frontlines of healthcare," said Dr. Philpott. "We are working together, educating our students together more than we ever did before, and I think this will make a healthier, happier workplace. They will want to stay on the frontlines when they recognize that they are not alone, that they are part of a team." 
And the benefits of interprofessional teams for patients are immense, said Dr. Stephanie Nixon, Vice-Dean and Director, School of Rehabilitation Therapy: "There is broad interest in moving away from a physician-centric model to one where we're actually allied to the patient, their family, their community, and we're working together as a team in alliance for them." 
"I believe QHS will set the standard for the rest of the country," added Dr. Erna Snelgrove-Clarke, Vice-Dean and Director, School of Nursing. "We are going to work together effectively and efficiently for our patients. And we will provide the mentorship our students need to thrive in the workplace, and make sure they know they can always come back to Queen's for support." 
Be a part of The Next 25 - make your gift to Queen's Health Sciences today.    
Learn more about QHS's vision by watching our town hall, The future of healthcare in Canada: solutions to the Current Crisis, featuring Dean Philpott and the faculty's Vice-Deans: 

link